Why Restaurant Customers Won't Try New Items On Your Menu
Posted by Gold Coast Linen Services on Tue, Jan 21, 2014
When you go visit your favorite restaurant do you try new menu items or do you stick with what you know? It's easy to continue ordering the same thing because you know you'll like it. Some restaurant customers never try new items, they always get the same order no matter what new items have been added to the menu. A lot of customers are skeptical about trying something that is unfamiliar to them. They don't even bother checking out what is new on the menu. So how do you get restaurant customers to try new items?
– Adding a promotion along with the new menu items can help get people to try something out of their normal routine of ordering. Offer a special limited time price for the new item to entice customers to try, that way they feel as though they won't lose if they don't like the new dish.
– Have the restaurant's waiters promote the new items in a way that is appealing and interesting. If the server asks the customer, "Want to try our new savory, thinly-sliced turkey sandwich with our special house sauce? We have a half price new dish promotion running so our customers can experience how amazing it is" instead of saying, " Want to try our new turkey sandwich? It's on sale" they will peak more customers interests and orders by using the first more descriptive phrase.
– Include an enticing picture on the menu which makes the item look too good to pass up. A menu item with a photo gives the customer a visual of the meal as opposed to just trying to imagine what it is going to look like.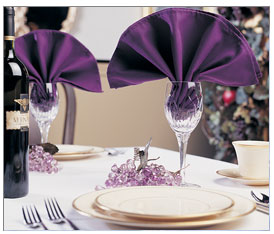 There are many different products and services offered in which customers are always hesitant to switch. Hair salons, doctors, dentists, and even linen and uniform services. It's not easy to go from a familiar business to one your are not familiar with. You may like your hairdresser who cuts your hair but do you love it or just are OK with it? Or there may be a dentist you have been going to for years but are you satisfied with their service? Sometimes it's easier just to continuously use a service you are familiar with instead of finding a new one. You may be okay with your restaurants current linen and uniform service provider but are they filling all of your business needs? Do they deliver on time and carry the items you need to run your restaurant smoothly? At Gold Coast we ensure your products are delivered on time, when you need them, on your schedule. Let us handle the laundry and you handle what matters most – your customers. With Gold Coast there are no hidden costs and our team is available 24/7 to answer all your questions and concerns.
Receive a FREE no obligation linen and uniform service quote for your restaurant by calling:
(561) 832-3841
Or E-mail:
sales@gclinenservice.com