High-Quality Tablecloths
From casual restaurants and cafes to upscale dining establishments and more, you can count on Gold Coast to provide you with the high-quality tablecloths your business needs for success.
Tablecloths are more than just a barrier between food and your tables. They showcase your restaurant's style and should always be bright, clean and stylish for every customer. Gold Coast offers a complete line of contemporary colors and patterns to find the best tablecloths for your restaurant's specific aesthetic.
Size & Color
Gold Coast offers a variety of sizes and colors to meet your needs. View our sizes and color swatches below: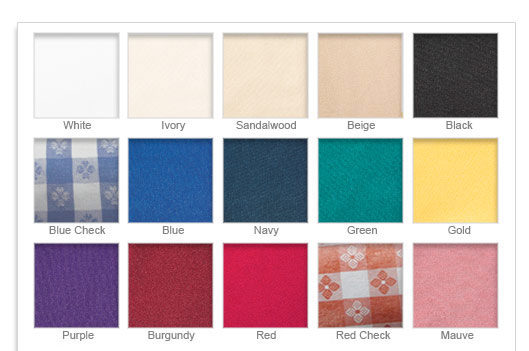 54 x 120
Black
Sandalwood
Burgundy
Red
Ivory
White
54 x 54
Black
Sandalwood
Burgundy
Red
Blue
Navy
Green
Ivory
White
54 x 72
Black
Sandalwood
Burgundy
Red
Blue
Navy
Green
Ivory
White
52 x 114
Black
Sandalwood
Burgundy
Ivory
White
54 x 90
Black
Sandalwood
Burgundy
Ivory
White
64 x 64
Burgundy
Navy
Green
Ivory
White
72 x 72
Black
Burgundy
Green
Ivory
White
90 x 90
Black
Sandalwood
Burgundy
Red
Purple
Green
Ivory
White
High-Grade Fabrics
You want your tablecloths to look good and stay strong through even the toughest spills. Don't invest in cheap, low-quality fabrics that won't be durable in the long run. With Gold Coast, you can get cost-effective, high-quality fabrics you'll be happy to display for multiple uses and washes to come.
The Gold Coast Difference
Gold Coast isn't here to only give you high-quality linens for your business. We believe in going above and beyond for our customers and working hand in hand with them to ensure their complete satisfaction. When you work with Gold Coast, you're part of the family. 
We are the only company in South Florida to offer high end, colorfast table linens. Our linen investment is 15–20% higher than standard linen. We believe that our customers are worth the investment. 
We use advanced technologies to keep all of your items accounted for, so you never have to worry about missing or torn linens. Our reputable route drivers will pick up and deliver your soiled linens on a schedule that works best for you. Talk about easy!
Here at Gold Coast, we are dedicated to making our services efficient, cost effective and reliable so that you can focus on what matters most – growing your restaurant.
Contact Us Today for a Free Quote!
Our linen experts are ready to help you choose the high-quality tablecloths you need to give your restaurant a polished, stylish look that will keep customers coming back for more.
Contact Gold Coast today for a free quote at 561-832-3841.