Make Your Restaurant Look Like A Million Bucks Without Breaking The Bank
Posted by Gold Coast Linen Services on Mon, Sep 08, 2014
Table cloths and napkins are an essential part of a quality restaurant's table set up.  Restaurants offering high end service cannot afford to skip on a regularly scheduled linen service.
High end restaurant customers expect to pay premium pricing in order to get served culinary specialties– but a steak (no matter the cut that is used) that is served with a side of paper napkins does not give a feeling of luxury.  The quality linens we offer create that elegance your high end customers expect of your fine dining establishment.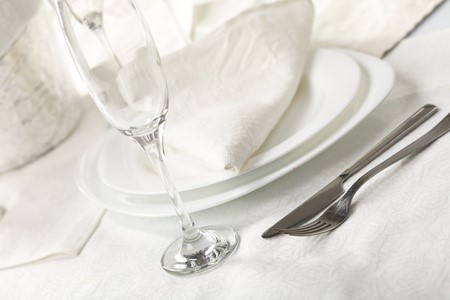 Why Choose Gold Coast Linen
We at Gold Coast Linen Service have been in business long enough to know what works when creating a formal dining atmosphere and what keeps restaurant owners and managers beyond satisfied with our service. When you sign up with us we assure you that:
Your restaurant linens will come back to you crisp and clean with every delivery.
We will pick up and deliver your linens on time every single time – no exceptions.
We can accommodate your restaurant's last minute emergencies.
You will never be caught off guard with hidden charges.
Not only do we have the expertise and the experience when it comes to maintaining restaurant linens in perfect condition; we also have an intense amount of dedication in helping restaurant owners like you save time and money while still providing quality products and service. Allow us to set a regular schedule for your linens to ensure your restaurant will always have the linens you need when you need them.  Tablecloths, Napkins, Aprons, Towels, Chef Uniforms and more we ensure quality products and service, on time delivery and fair prices.
Call us at (561) 832-3841 to receive a free no obligation quote on linen service for your South Florida restaurant.  We proudly service Stuart, West Palm Beach, Ft. Lauderdale, Miami and surrounding areas!