Are Colorful Uniforms A Good Choice For Your Restaurant?
Posted by Gold Coast Linen Services on Fri, Nov 21, 2014
In this day and age where technology seemingly makes everything possible, many people have been tweaking traditions and starting new ones. This is especially true with chef's uniforms. The traditionalists may disagree and want to stick with traditional white attire, but many of today's trendsetters are bravely venturing towards a more colorful change with their uniform choices.
Like most new trends there is always a question whether or not it suits you and your business. If you're considering going for a color change on your staff's uniforms, here are some things that you may want to consider:
Fine Dining:  Some eateries are fashioned to look traditional, others more modern. Most traditional restaurants – the fine-dining, formal-wearing kind – may not look good with colored uniforms.
Choosing the Right Color Scheme: Many restaurant owners who go for colored uniforms want them to match their company logo and marketing materials. Make sure the colors you choose are ones that match your brand.
Maintenance: If you're looking for something low maintenance, neutral colors are the best choice; if you're looking for easy to find and affordability traditional white is the way to go.
At the end of the day, the decision is yours; however, your most practical choice would always be what works best for your business – in form, convenience, and more importantly costs.
No matter what type of restaurant uniform your business require, we are here to help!  At Gold Coast – we offer a wide variety of chef's uniforms – from crisp, stark whites and also vibrant hues that are sure to match your restaurant's look while providing the same comfort and protection to the employee.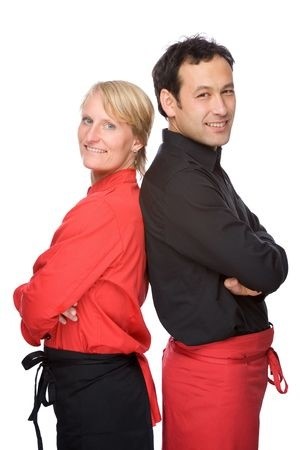 We don't only offer the highest quality linens and chef's uniforms; we also offer services that are top of the line and unmatched by anyone else in the industry. We provide 24/7 access for service requests and quotes,  pride ourselves in our on-time regular pick-up and delivery and impressive cost-control reporting that makes sure you know exactly what you're paying for – nothing more, nothing less, no surprises.
Give your restaurant the linen and uniform service it deserves – Contact Us  for a free no obligation quote – (561) 832-3841.