Summer Bucket List in South Florida
Posted by Gold Coast Linen Services on Wed, Jun 17, 2015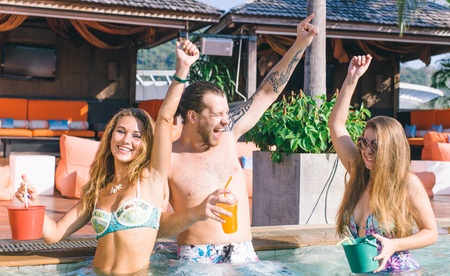 For the typical South Floridian, spending a summer in South Florida seems like an ordinary, typical day. However, if you are on a tight budget or cannot afford to miss work for a trip to a foreign country or another state this summer, here are some fun activities anyone of all ages can take part in in the Sunshine State!
Jet Skiing or Parasailing- Are you tired of taking trips to the beach and soon after realizing that 

there is nothing to do besides lay in the messy sand or swim in murky waters with creatures roaming around your body? Spice things up by renting a jet ski for the day or para-sail, your weekend will be fun for sure.

Fashion Show In Miami- Miami is a popular place for lovers of high-end items. Therefore, this 

city is almost always hosting several fashion shows in many places either in South Beach or downtown Miami. Visiting one of these fashion shows is a must-do for the fashionista in you.

Trip To Orlando- Orlando is a fun place to visit over the weekend. The hottest spots are the 

theme parks, like one of the parks in Disney or checking out Universal/Islands of Adventure. Let the child inside of you come out as you have a blast and enjoy your Florida Resident discount!

Visit A Zoo- South Florida has many zoos and animal centers that range from ocean animals and 

land animals. Bring your kids, friends, or significant other with you and enjoy a day with wildlife.

Give Back To The Community- It doesn't matter if you are a young college student or a retired 

senior, giving back to the community is sure to put a smile on anyone's face. South Florida is filled with many opportunities for volunteer work; you can clean up the beach, feed the homeless, or play with furry pets in the animal shelter.

Visit A Casino or Bingo Tournament- Want an exciting weekend? Take a chance and visit the 

casino or your local bingo hall and let the risk-taker inside of you come out.

Go On A Dinner Date- Whether you're single or married, young or old, there is nothing more 

romantic than going on a dinner date in one of South Florida's finest restaurants. Treat your spouse or new flavor of the week to a dinner by the ocean and enjoy the wonderful place you live in.

Sunday Brunch- Finish your weekend, getting ready for the new start of the week, by grabbing 

brunch at a nice restaurant in the middle of your Sunday.
If you are a business owner in the South Florida area and looking for linen for your restaurant or cafe, give us a ring at (954) 785-7202 or (561) 832-3841.