Gold Coast Linen Owners Make Million Dollar Investment to Save 20 Million Gallons of Water a Year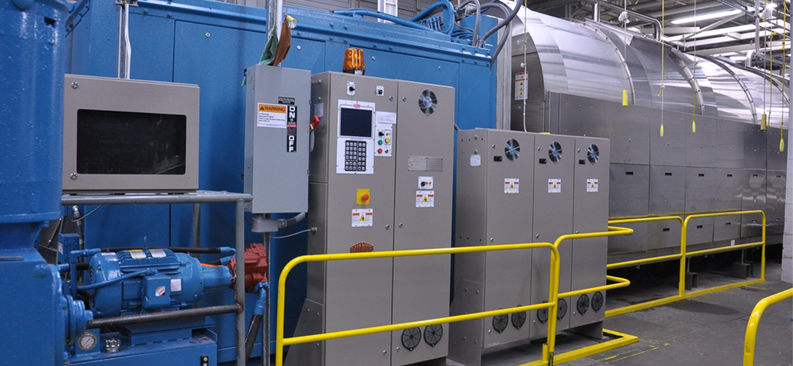 Renton, WA – November 28, 2011 Gold Coast Linen owners and employees will celebrate the arrival of their revolutionary new Milnor CBW® washer with Pulse Flow – the first machine of its kind in the Northwest – at a ribbon cutting event at 10:30am Monday, November 28, 2011 at Gold Coast Renton office. The new washer is designed to reduce the linen and uniform rental company's water use by up to 20 million gallons of water a year. The mayor of Renton, members of the Renton Chamber of Commerce, and the Eastside Green Business Challenge will join the celebration, as well as Gold Coast customer Duke Moscrip of Duke's Chowder House, who will serve complimentary Duke's clam chowder.
It is a significant milestone for Gold Coast Linen owners and longtime Renton business leaders Bob Raphael and David Jassny, who invested more than a million dollars and spent more than a year researching the continuous batch washer to become the first linen supplier in the United States to use this machine. "It was a risky move to make," say Jassny and Raphael. "But in the end, we knew cutting our water consumption by two-thirds and thereby reducing the energy needed to heat the water was the right thing to do for both the environment and our business."
"I am very impressed by Gold Coast Linen's commitment and creativity in demonstrating environmental stewardship," says Mayor Denis Law. "This project will enhance the company's bottom line, while also protecting our aquifer and creating lasting change in our environment. This is a great example of the opportunities in our Clean Economy Strategy that help Renton thrive in a more resource-efficient future."
Gold Coast is a founding participant of the new Eastside Green Business Challenge (www.sustainableeastside.org), which is a friendly competition among businesses and non-profit organizations to see who can save the most money and natural resources in one year. "Gold Coast and the Renton community are shining examples of how 'going green' is mutually beneficial for business, environment, and community," says Eastside Green Business Challenge spokesperson Paul Andersson. "We trust other Puget Sound business communities will be inspired by Gold Coast's actions and help grow the Green Business Challenge beyond the Eastside."
Gold Coast Linen Supply's new Milnor CBW® washer with PulseFlow technology – which employees have nicknamed 'Rosie' – is a revolutionary breakthrough in washing technology. Pulse flow allows for very low water use with increased through put. Traditional washers with some water use 2 gallons of water per 1 lb. of laundry, 'Rosie' cuts this down to .6 gallons of water (a 2/3 reduction) per 1 lb. of laundry for an annual savings of 17-20 million gallons of water at Gold Coast Linen
Additionally, the new Milnor CBW significantly reduces Service Linen Supply's carbon footprint. Because there is less water needed to wash linens, there is also less energy needed to heat the water required for washing. Importantly, 'Rosie' also uses a third less electricity because with PulseFlow technology, laundry batches are washed more quickly, thereby allowing the machine to produce the same output in fewer hours than traditional machines.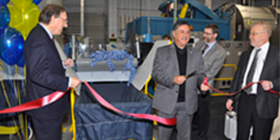 Denis Law, Renton City Mayor, cuts the ribbon with Co-presidents Bob Raphael and David Jassny, as Jerry Fry, VP of Operations, oversees the first load coming out.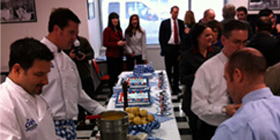 Following the ribbon cutting, everyone enjoyed a complimentary cup of clam chowder from Duke's Chowderhouse, a long-time customer of Gold Coast.